The American Hope Act 2017 provides the legislative solutions to permanently protect young undocumented immigrants regardless of educational level, military service or work history. Below is a description of the Act, created by the immigrant youth at United We Dream.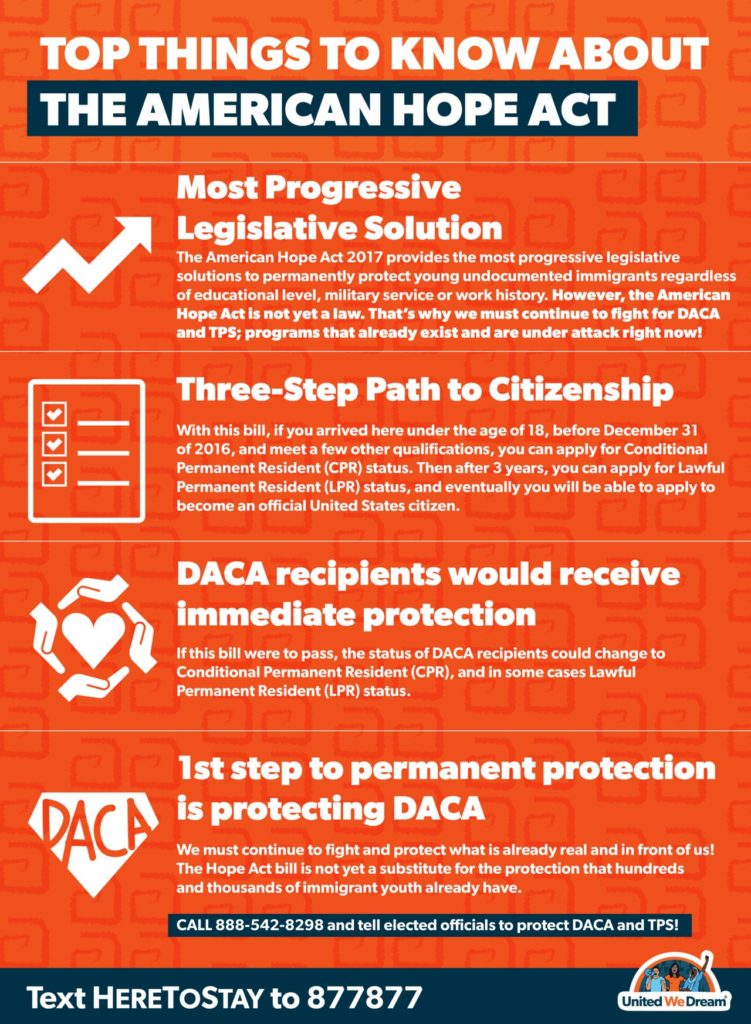 The American Hope Act 2017 Creates a Three-Step Path to Citizenship
Step 1: Conditional Permanent Residence (CPR): The bill provides Conditional Permanent Resident (CPR) status to undocumented youth who:

(1) entered the United States before the age of 18,
(2) have since been continuously present* since Dec. 31, 2016,
(3) pass a background check, and
(4) have not been convicted of certain crimes or immigration violations**

*For "continuously present," the individual cannot have departed US for more than 90 consecutive days or 180 cumulative days, unless authorized by DHS.
**A violation of one of the following grounds of inadmissibility under Section 212(a) of the INA: criminal grounds of inadmissibility (INA 212(a)(2)), national security grounds (INA 212(a)(3)), evading the draft (INA 212(a)(8)), polygamy (INA 212(a)(10)(A)), child abduction (INA 212(a)(10)(C)), and renouncing one's own US citizenship (INA 212(a)(10)(E)). The Secretary is granted the power to permit anyone who has committed a non-violent crime involving moral turpitude to receive CPR status.

About CPR:

CPR status lasts for up to 8 years.
DHS cannot deport anyone who has CPR or appears to be eligible for it. Anyone who is eligible must be given the chance to apply for CPR.
Authorizes a grant program that can provide funding to eligible applicants to help them apply for CPR
If DHS terminates someone's CPR, that decision is reviewable in immigration court and they are responsible for the burden of proof and demonstrating a "preponderance of evidence," that the individual has become deportable under Section 237(a) of the INA
Step 2: Lawful Permanent Residence (LPR – green card): Anyone who maintains CPR status for 3 years can petition 6 months in advance for LPR status (i.e. a green card) if they meet the following requirements.

Maintains CPR status for 3 years without abandoning U.S. residence*
*Cannot be absent from the country for more than an aggregate of 365 days during period of CPR status

Any time spent with DACA counts towards the 3 years.
Has not been convicted of any of the crimes or immigration violations detailed above
Passes a background check
Step 3: Citizenship: After maintaining LPR status for five years, an applicant can apply to become a citizen. The time spent with CPR status can be applied to the 5-year LPR requirement prior to citizenship.

This essentially provides a 5-year path to citizenship for most applicants (CPR for 3 years⇛ LPR for 2 years⇛ Eligibility for U.S. citizenship)
The American Hope Act Contains Clear Confidentiality Provisions
DHS cannot pass along documents submitted for these applications, or refer applicants, to federal immigration enforcement agents except for investigations relating to crimes of inadmissibility or national security concerns (i.e. INA 212(a)(2) and INA 212(a)(3)), or for purposes of identifying a deceased individual.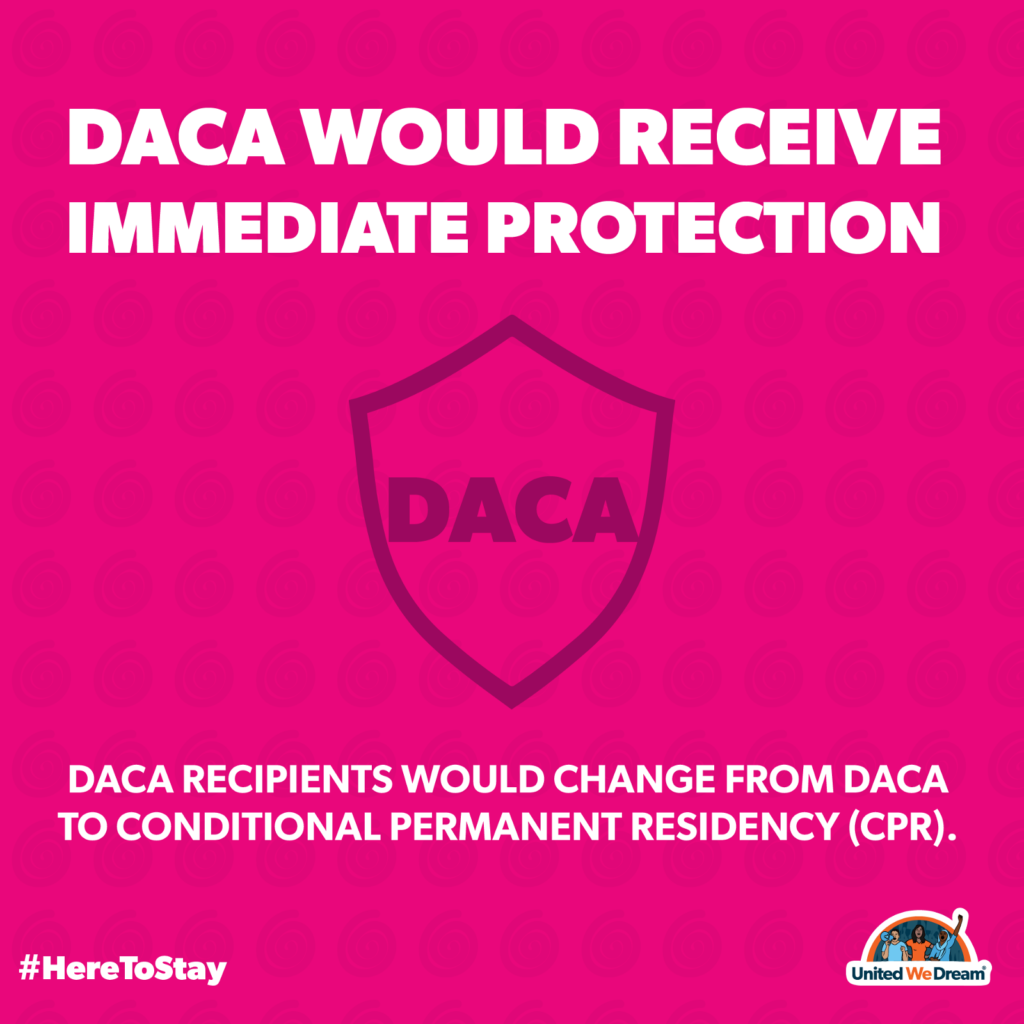 The American Hope Act 2017 provides a path to citizenship that is based on human rights and dignity and not just one's ability to work, join the military, or go to school.
The American Hope Act 2017 allows those who are not currently pursuing secondary education to obtain CPR status (given that they meet the other requirements) and to eventually apply for LPR status without following a specific education, military, or work-based track.
It also expands eligibility to youth to those who have been in the country since Dec. 31, 2016, thus giving even the most recent young arrivals a chance to become citizens.
Acknowledges the accomplishments of DACA beneficiaries by allowing the time spent with DACA status to count towards CPR 3-year requirement necessary in applying for LPR status.