The Walk of Fame star with the name of President Donald Trump was vandalized with decals at the Resist March demonstration during the 47th LGBT Festival held in Los Angeles, California, on the weekend.
Some of the protesters against the president's policies put messages saying "homophobia," "racism" "immigration" and "extremism" about the star, which is on Hollywood Boulevard in Los Angeles, according to media reports.
This is not the first time that Trump's star is vandalized. Last year, Los Angeles police arrested a man who smashed the star with hammers and later had to be restored to protect the historic heritage of the well-known neighborhood, according to the media.
"The stickers and decals were stuck during the march have been removed to protect the historical heritage of the district of Hollywood"
said a local Hollywood resident.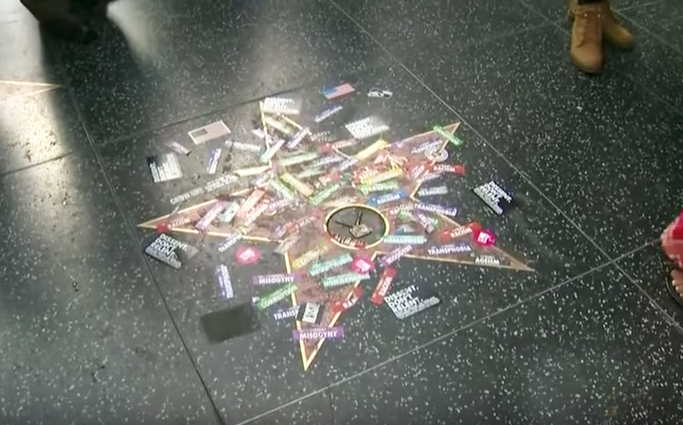 Hollywood Walk of Fame Star Defaced
The incident was not reported to authorities because of minor damages, according to the Los Angeles Police.
Trump commented Tuesday about #resist, slogan of march marchers, criticizing Democrats in Congress, the Daily Mail reported.
The Trump star was awarded to the Republican magnate in 2007, in recognition of his participation in the television show "The Apprentice."
Donald Trump star on Hollywood Walk of Fame has been covered in stickers saying "I Resist Homophobia" during #ResistMarch #Pride2017 pic.twitter.com/Ec4B2D2ERQ

— Hailey Branson-Potts (@haileybranson) June 11, 2017
March organizer Brian Pendleton told CNN that
"although the stickers were distributed during the demonstration, the intention was not to end up in the Trump star, an act that I consider a joke, a humorous gesture more than a Damaging act, I definitely do not approve of vandalism. "

"The stars that appear on the Hollywood Boulevard Walk of Fame are historic heritage of the city and must be respected,"
concluded Martinez.
It's not the first time the star has been vandalized back in late October.