A truck carrying 40,000 pounds of chicken feathers overturned on northbound Interstate 5 in Federal Way Wednesday morning, causing a 7-mile backup at the height of rush hour.
The crash happened around 3:20 a.m. at S. 320th Street, but it took four hours to get everything cleaned up.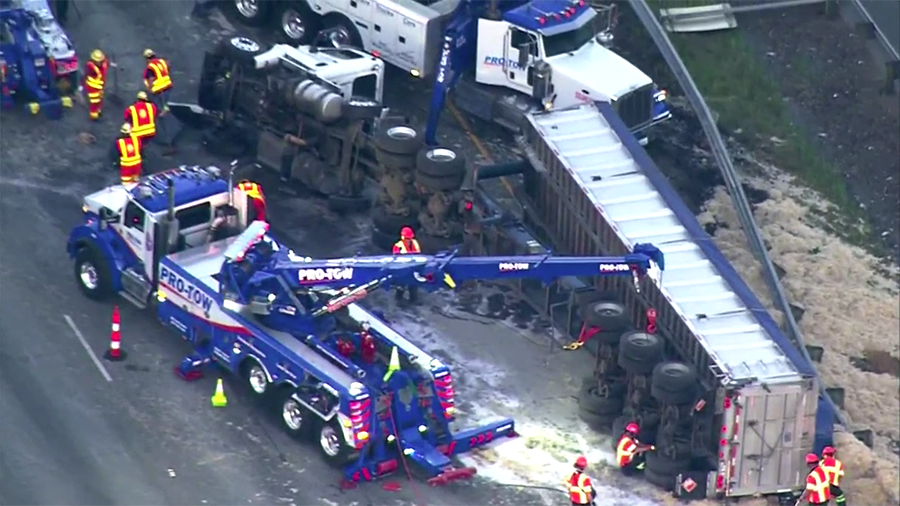 The driver, who was OK, told news outlets he fell asleep at the wheel. He said he overcompensated after hitting a guardrail, causing the truck to flip over. The driver said he was hauling the feathers from Foster Farms in Kelso to Mount Vernon.
He said this was the first time in his 27 years as a truck driver that he's had an accident.
The entire freeway was blocked for a time before one lane was able to be reopened for drivers. All lanes were opened around 7:30 a.m., but not before the backup extended into Tacoma.
The wet feathers left a smelly mess.
WSDOT workers who had to help clean it up said they were just getting off a long shift when the crash happened. They had to work overtime to help get the freeway back open. Three tow trucks had to help right the truck.
Chicken feathers can be used for multiple purposes including diapers, insulation, paper, plastics, and for decorative purposes, according to the University of Kentucky College of Agricultural Food and Environment. The school says some poultry farmers raise chickens specifically for their feathers.